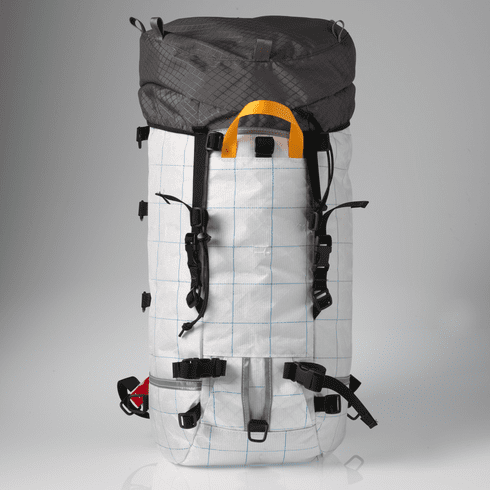 30L MOB WorkSack
Stripped Weight: 505g(1 lb) | Max Weight: 885g(2 lbs)
See bottom of page for size specifications.

Made when ordered here in our factory in Portland, Oregon, and winner of the Guides Choice Award and Alpinist Mountain Standard awards, CiloGear WorkSacks are the best packs for climbers in the world. These are the first UHMWPE packs in the world made from reclaimed ocean waste.

The new CiloGear Mountain:Ocean Blue® (MOB®) WorkSacks represent the culmination of more than 2 years of research and development on the most advanced fabrics and plastic reclamation efforts in the world. Destined to be a new heirloom item, this is the pack you will pass on to your grand kids. Available in space station white, these packs still look good after years of hard use.

The MOB® WorkSacks are the burliest, strongest packs currently available in the world. Made with cutting edge fabrics designed and developed by CiloGear, the MOB® WorkSacks weigh pounds less than the competition and with 5 times the abrasion resistance of 1000d Cordura. The MOB® WorkSacks simply outperform everything else on the market. These packs replace our old WNW materials which we had to drop due to their environmental costs.

The 30L has the classic CiloGear features, including the Ninja Pocket, internal compression strap, hipbelt, lid, set of six straps, and a removable bivy pad.

Volume Range: Normal: 30L | Expanded: 40L | Compressed: 15L | Closed: 8L

Weight and Sizing Specifications
Pack bag: 505g(1 lb) | Pad: 80g | Strap Set: 100g | Hipbelt: 100g | Lid: 100g | Total: 885g(2 lbs)
If your torso is about 20" or longer, choose the Long Shoulder Straps.
Ladies, be sure to specify Women's Hipbelt.